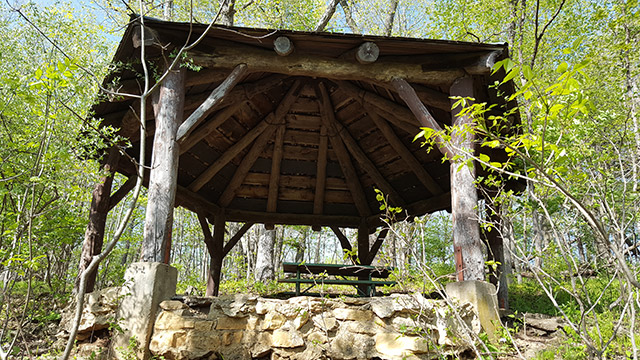 TIP 1 — Find the gazebos.
On the trails south of 98th street there are three gazebo structures that offer scenic views of the Raccoon Creek valley. The gazebos are often overlooked because they are located on the valley rim trails away from the more popular hiking trails near the caves.
TIP 2 — Hike Valley Trail
The .91 mile Valley Trail will provide a good cross section of what the park has to offer. The hiking trail starts at Balanced Rock, and follows the Raccoon Creek until it intersects with Firebreak Trail. You'll hike under a wooded canopy and see caves, water crossings, and lush woodland valley flora. The east end of the trail is has many caves and rock features. The west portion of the trail has a slight up hill grade and less traffic. If you want to extend your hike — take the 2.33 mile Firebreak Trail loop for a long prairie trek.
TIP 3 — Find Wye Cave
Locating Wye Cave can be maddening with the maps and signage available in the park. The cave is not in the Raccoon Creek Valley like the other caves. It's actually on Forest Ridge Trail which current park maps call Outer Loop Trail. Confused? — pick up an accurate bandanna trail map or download the printable map of Maquoketa Caves State Park below.