Lake Ahquabi State Park Trails
Ahquabi is an Indian word meaning, "Place of Rest". As you hike, mountain bike or cross country ski on over seven and a half miles of multi-use trails at Lake Ahquabi State Park you will see how appropriate that name is. Lake Ahquabi was established in 1936 and is fortunate to have several beautiful C.C.C. (Civilian Conservation Corps) structures. All of them are worth checking out as you travel the trails.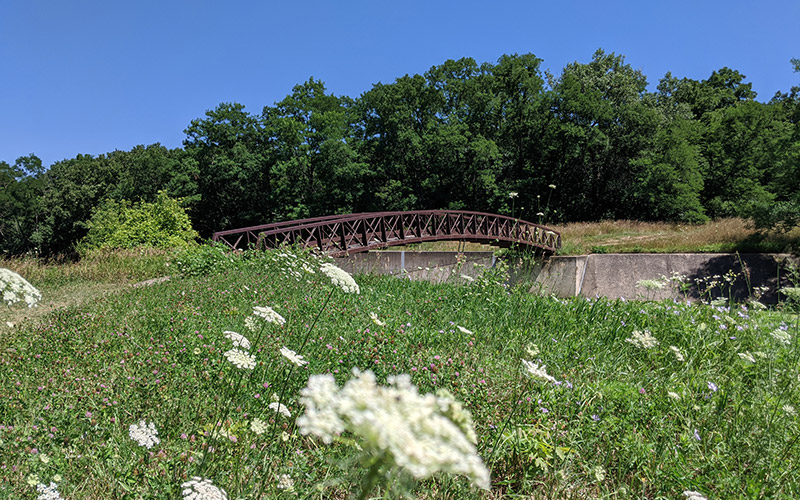 Lake Ahquabi Trail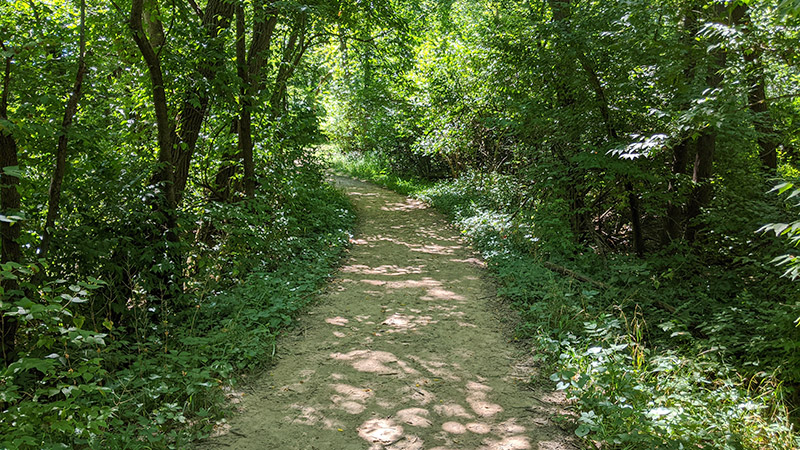 The lake is the star feature at Lake Ahquabi State Park and the best way to see it by land is on this 4.38 mile loop trail. From a hiker's perspective, the trail has gently rolling terrain with a few steep ups and downs at the south end of the loop. The trail is primarily a wide dirt path with some gravel, grass and mulch. In shady low spots I noticed some lingering muddy stretches left from rains two days prior. You'll be hiking in the shade of trees except at the dam crossing; areas around the campground and at the beach area. I enjoy walking bridges and this route has three. There is one at the south end crossing the Hooper State Game Area dam outlet; another bridge crossing the Lake Ahquabi outlet at the dam and one crossing the northeast "Y" branch of the lake.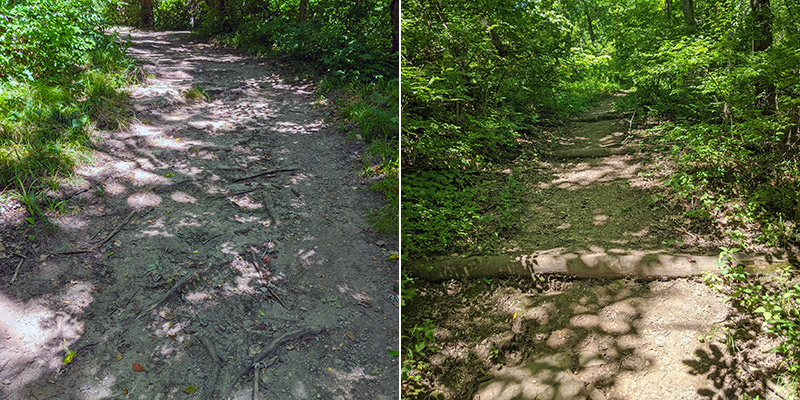 This route is also popular with mountain bikers. I have read that it's most challenging if you ride the loop clockwise so I took that advice and can confirm that it's true. You will encounter double track trail width with the occasional single track segments. The trail has tree roots, erosion control and occasional dead-fall to maneuver around. On the west side of the south bridge is where I walked the bike up the trail. There is a small bypass trail that would allow you to avoid the rugged incline if you choose.
Prairie Loop Trail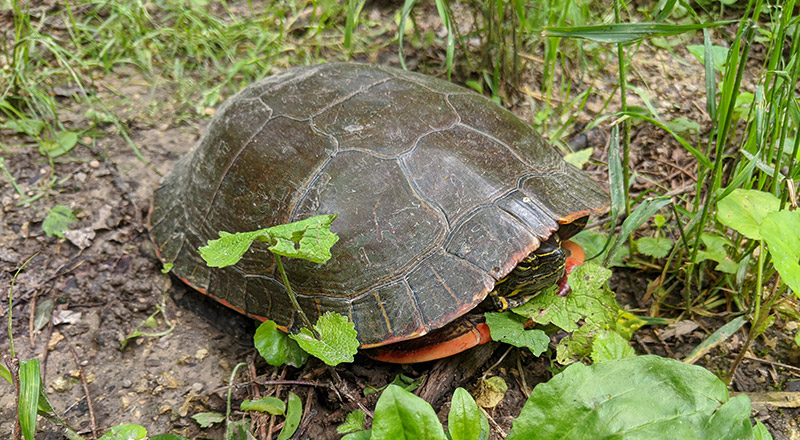 I found this 1.46 miles of trails to be some of the most peaceful in the park. Because this area has a mix of prairie and woodland flora, it is an ideal place to observe wildlife. Prairie Loop Trail is close to the campground and would make an excellent evening stroll for campers.
Seven Bridges
This .5 mile wide shady trail connects the beach, picnic shelter and northeast boat ramp areas. It's also a good way to access Trail 4.
Trail 1
A short .04 path down to a retention pond.
Trail 4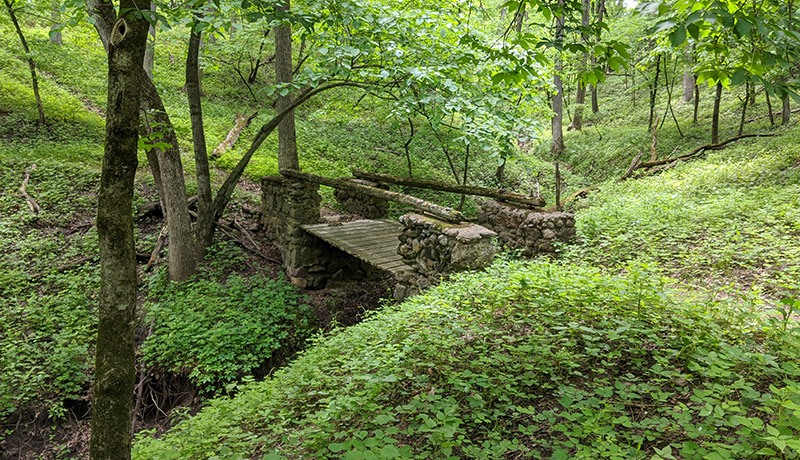 At .8 miles, Trail 4 is not long but you can feel like you're lost in the woods here. The path meanders up and down wooded ravines until you happen upon a beautiful stone C.C.C. built bridge. There are three trailheads for this network of trails including one at a well maintained C.C.C. built stone shelter that is a fun place for picture taking.
Whitley Monument Trail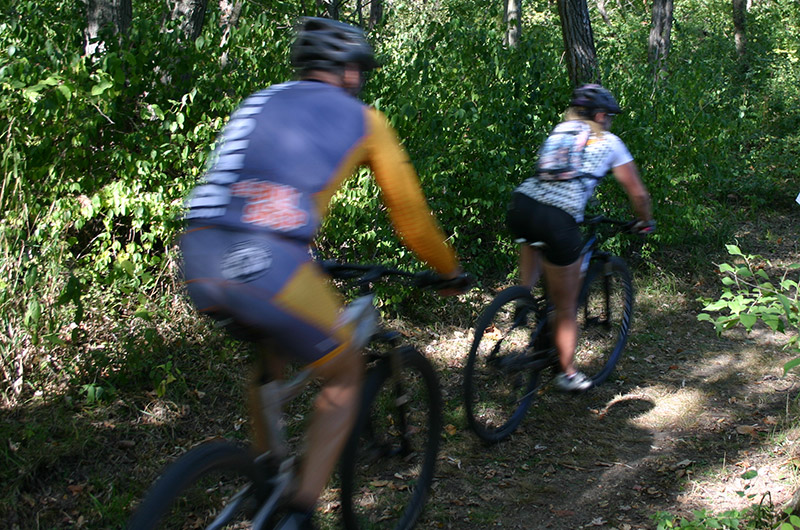 This is a .33 mile alternative route off of Lake Ahquabi Trail. Taking this path from either trailhead will take you by the Whitley Monument and return to Lake Ahquabi Trail.
Service Trail
The .3 mile trail is a wide and shady trail to the ranger residence.
My Favorite Hikes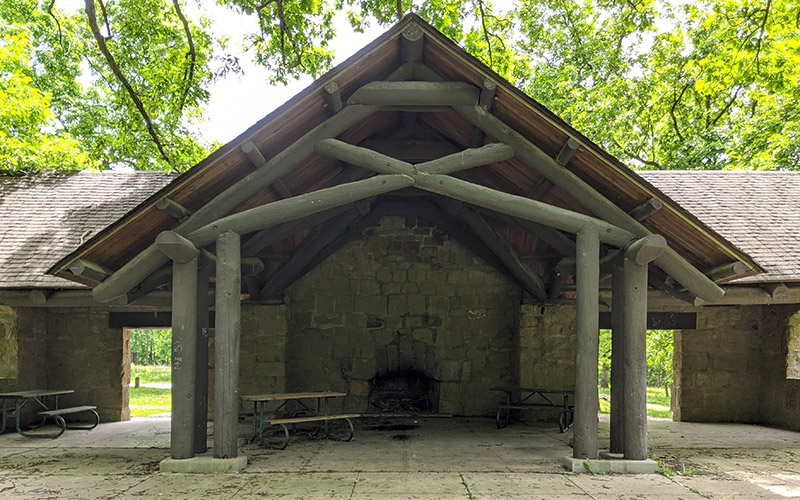 The four mile Lake Ahquabi Trail wins my vote here. I found it to be an enjoyable trail to hike with a partner because it was wide in many places and had room for bikes to pass hikers. A very close second place is the combination of Seven Bridges Trail and Trail 4. This combination is a good way to visit some of the C.C.C. structures like the beach house shelter, woodland bridge and picnic shelter.