Jester Park Trails
Jester County Park in Polk County has 14 miles of trails that are a mix of hiking only and multi-use. The main trail system to the north meanders through wooded and mildly hilly terrain. The southern trail system is multi-use and is especially suited for equestrian riders. The south trails follow the shoreline of Saylorville Lake with some other paths that wind through the timber.
Basswood Trail
This is a .07 mile path that connects a picnic area to Jester Park Lodge.
Bird Blind Trail
The short .03 mile path leads to the bird blind.
Camper's Loop Trail
This .32 mile trail connects camp grounds one, two and four. It can be hiked as a loop from any of the campgrounds it connects. Camper's Loop Trail is a nice little hike in the woods.
Discovery Trail
This .58 mile trail circles picturesque Discovery Pond and is one of the signature hikes in the park. There are many things to do along the trail such as canoe and kayak rentals; fishing at a pier or shoreline; educational activities at the council ring area and watching aquatic wildlife from the long boardwalk. The trail can be easily accessed from the Nature Center, Outdoor Recreation Center, cabins and multiple parking areas.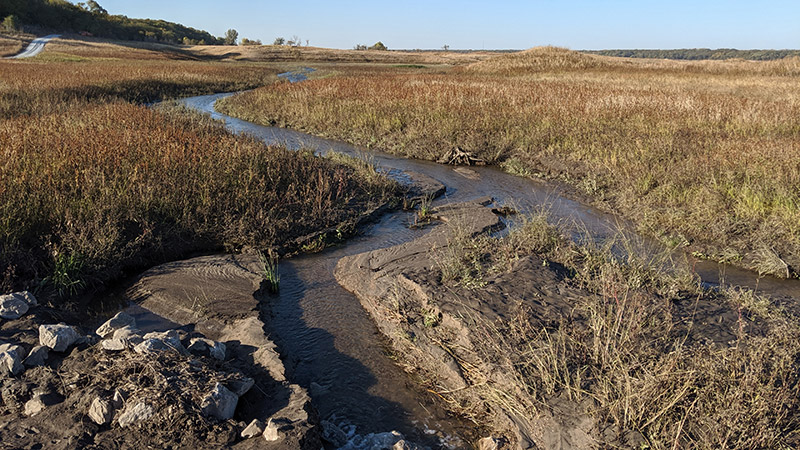 Equestrian Trails
These are a 2.97 mile network of multi-use woodland trails at the south end of the park that connect to the Lakeshore Trail. They are excellent for equestrians and hikers, however, slopes down to Lakeshore Trail can be steep for those on foot.
Forest Trail
The .36 mile Forest Trail is a quiet path through the trees. Use it with Discovery Trail and Prairie Trail to make an interesting hike in three unique ecosystems.
Fox Run Trail
Hike this .61 mile loop trail if you're looking for an easy stroll in the woods. Fox Run is a level path with abundant flora and fauna. It can be used in combination with Hickory Ridge Trail to access the Elk and Bison pens.
Hickory Ridge Trail
At 1.20 miles, Hickory Ridge Trail is one of the longest wooded trails in the park. You will surely get your heart pounding as you trek in the woodlands up and down ravines at comfortable slopes. The well maintained trail has some nicely constructed features such as stairs and water crossing structures. It's a good route to get between the Elk/ Bison Exhibit and Discovery Pond area. This would be a good choice for trail runners as well.
Lakeshore Trail
The five mile multi-use Lake Shore Trail follows the shoreline of Saylorville Lake from the northwest side of the park to the southeast end. It's groomed for equestrians but the wide and level path is easy for hiking use as well. I found the southern half to be more interesting, in part, because I did not know Jester extended that far south. You're almost entirely in open sun with prairie-like features so I find that mornings or evenings are best on this route. Be aware that the trail is often closed in the spring due to high water in the reservoir.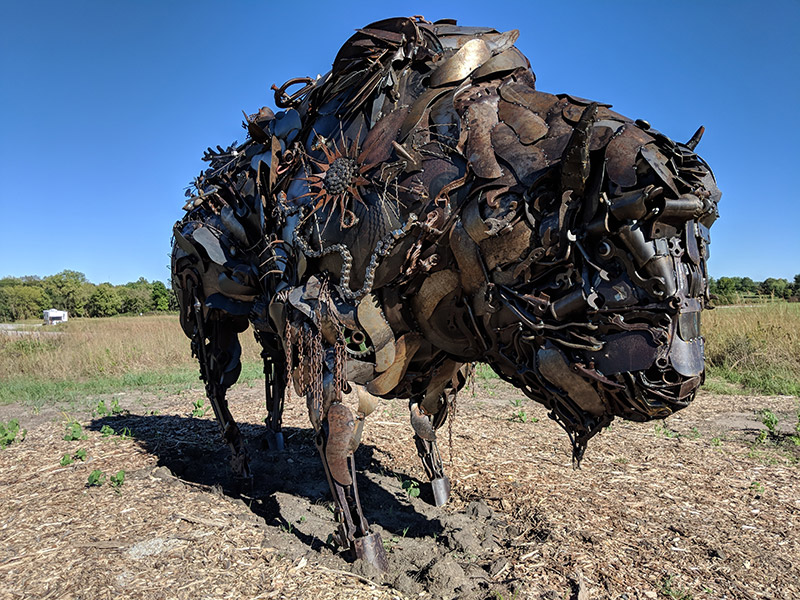 Prairie Trail
Prairie Trail winds .88 miles like a labyrinth through a tall grass prairie habitat. The prairie is full of life so be sure to stop and observe the birds, plants insects and mammals. One thing you won't miss is the buffalo sculpture made out of scrap metal. The trail and sculpture can be easily accessed from the parking lot at the Nature Center.
Red Cedar Trail
If you're looking for a peaceful walk in the woods then I recommend the .43 mile Red Cedar Trail.
Stagecoach Trail
This .35 mile trail is a good way to get you from the Lakeshore Trail to the other trails in the park or vice versa.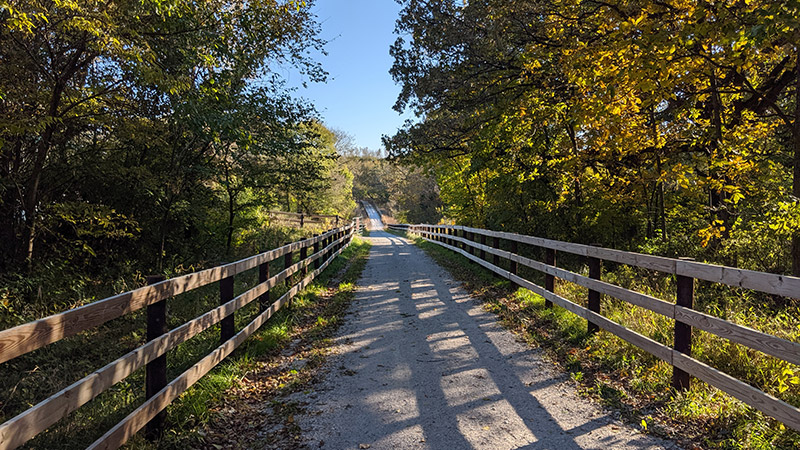 Wagon Road
Wagon Road is a 1.2 mile old road converted into a trail. It runs from Lincoln Cemetery to the Equestrian Center. There are peeks of the lake in places and wetland areas that I found to be surprisingly picturesque.
My Favorite Hikes
I really enjoyed Hickory Ridge Trail for its varied terrain, stream crossings and deep woods feel. My second pick would be Discovery Trail. A lot of thought and effort has gone in to making Discovery Trail feel natural yet accessible for almost anyone. My third choice is surprisingly Wagon Road Trail. I felt like I was walking down an old county road talking with a friend.
---
Related Parks You May Like