Stone State Park is unusually located within the city limits of Sioux City and on the northern portion of Iowa's Loess Hills. I was struck by the rugged terrain and remote feeling you get so close to Iowa's fourth largest city. Unlike the prairie covered hills of centuries ago, the terrain in Stone State park is now covered in lush forest. Prairie remnants can still be found on many of the highest hills in the park to give you a sense of what this land once looked like. You can access the park from two entrances located on the east and west sides. The west entrance is best for travelers coming from HWY 29 or HWY 12 and the east side is convenient for Sioux City residents.
The park is rich with features and can accommodate many popular outdoor activities. There is an extensive trail system that is well maintained. The park's multi-use trails draw mountain bikers, equestrian riders, cross country skiers, snowmobilers and hikers.
For overnight stays, Stone State Park offers camping for tents and trailers at a modest sized modern campground. There are also three camping cabins with heat and air-conditioning but no sanitary facilities. The campground's shower and restrooms are available while staying in the cabins.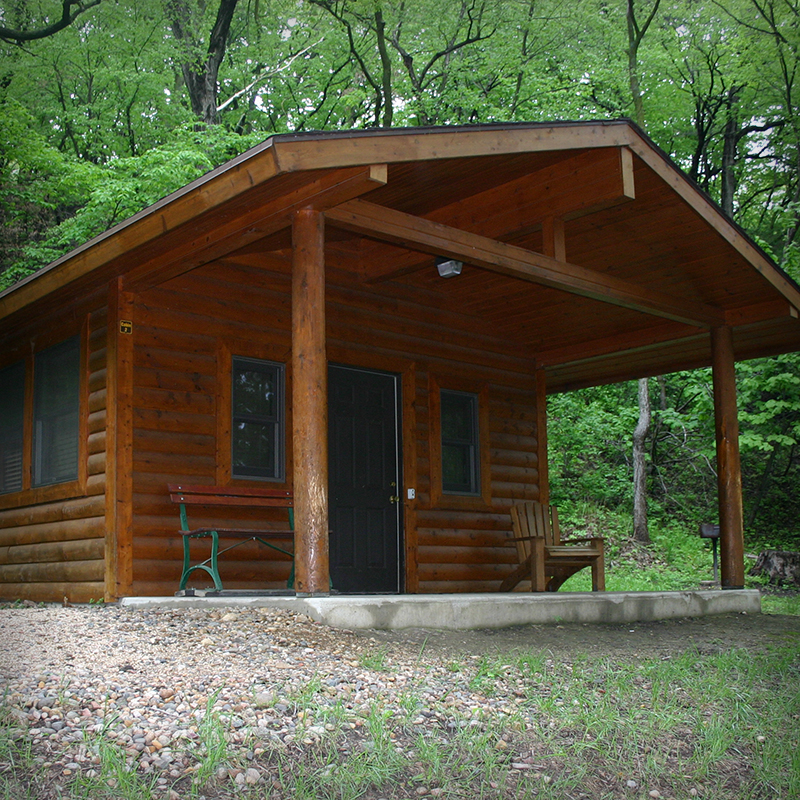 Throughout the park you will find many areas for an intimate picnic or large group gatherings. Picnic tables, shelters, restrooms and water fountains are conveniently located throughout the park. Many of the park's structures were built by the Civilian Conservation Corps (CCC) and have stood since the 1930's. One such structure is the beautiful Stone Lodge that can be reserved for events.
The flora and fauna seems especially abundant in Stone State Park. If you're up for some fishing, try casting your line into Turtle Lake to catch some catfish, bass and bluegill. Keep an eye out for deer and turkey while walking the trails. They are accustomed to people on the trails and it's easy to get close if you are quiet. Birds of all types can be spotted in the park. On three occasions I spotted Scarlet Tanager's that stood out in sharp contrast against the green foliage. Bur Oaks make up most of the lush forested valleys and a variety of prairie plants can be seen on steep and dry slopes.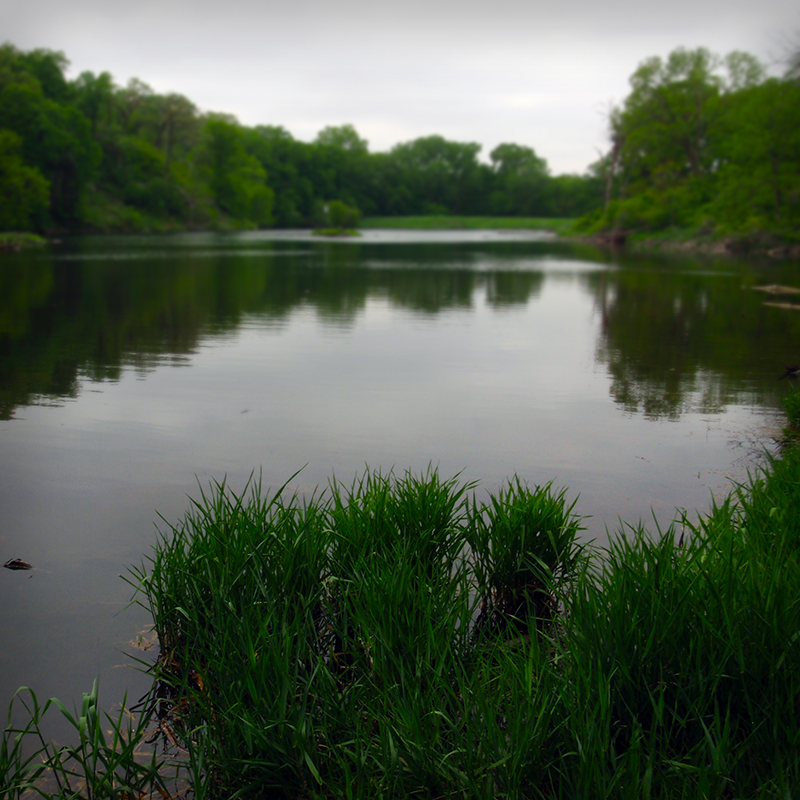 A rambling drive is another good way to experience Stone State Park. Be sure to pull over and take in the views from the scenic overlooks. Sunsets are especially dramatic since most of the overlooks face west.
An added bonus to the area is the Dorothy Pecaut Nature Center which is located next to Stone State Park. The center is maintained by the Woodbury County conservation board and incorporates museum quality displays to help educate people about this region of the Loess Hills. There are also 2.61 miles of family friendly trails around the Dorothy Pecaut Nature Center that connect to the Stone State Park trail system up at Mount Lucia.
Campground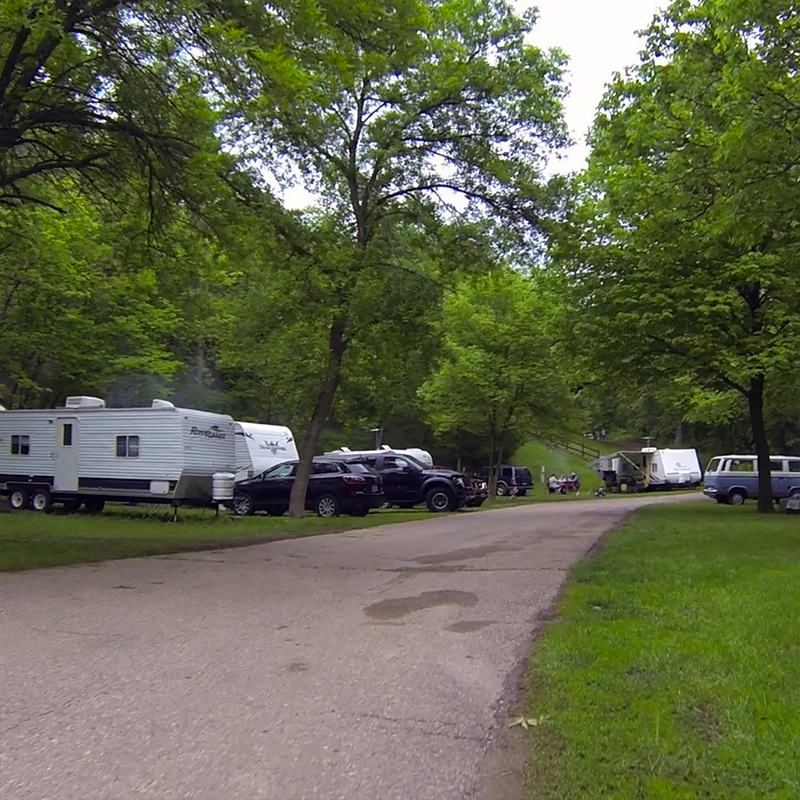 Stone State Park's campground is nestled in a wooded hollow. The surrounding hills and trees keep campers out of the wind. The campground is best suited for tent campers; however, 10 of the parks 30 sites do have electrical hookups. The electric sites are fairly close together and have grass pads that can get soft when wet. Smaller trailers will find this campground accessible and cozy. Large trailers or motor homes may have a challenging time maneuvering into a spots. Stone State Park does not have a dump station in the park. You'll need to empty your waste tanks at dump stations located in the rest stops along HWY 29 on your way home. All campers have access to a clean modern bathroom and shower house. A primitive restroom and two potable water spigots are also available.
Several trailheads are accessible to start a day of hiking. If you're looking for a shorter trek, try hiking the Carolyn Benne self-guided nature trail just to the north of the campground. There are free printed guides for the trail on a kiosk where the road loops at Coon Hollow.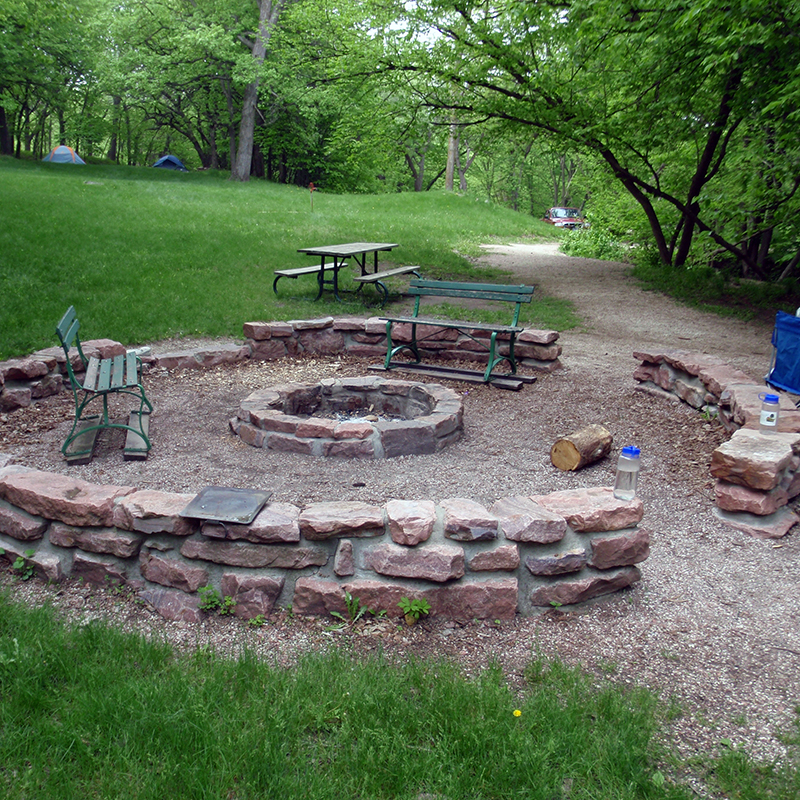 A large youth group camping site can be reserved on the north side of the campground entrance. This flat grassy area is shaded under a canopy of trees and features a large fire pit complete with stone benches. There is a marshy area nearby that could create issues with mosquitoes in the right conditions.
Trails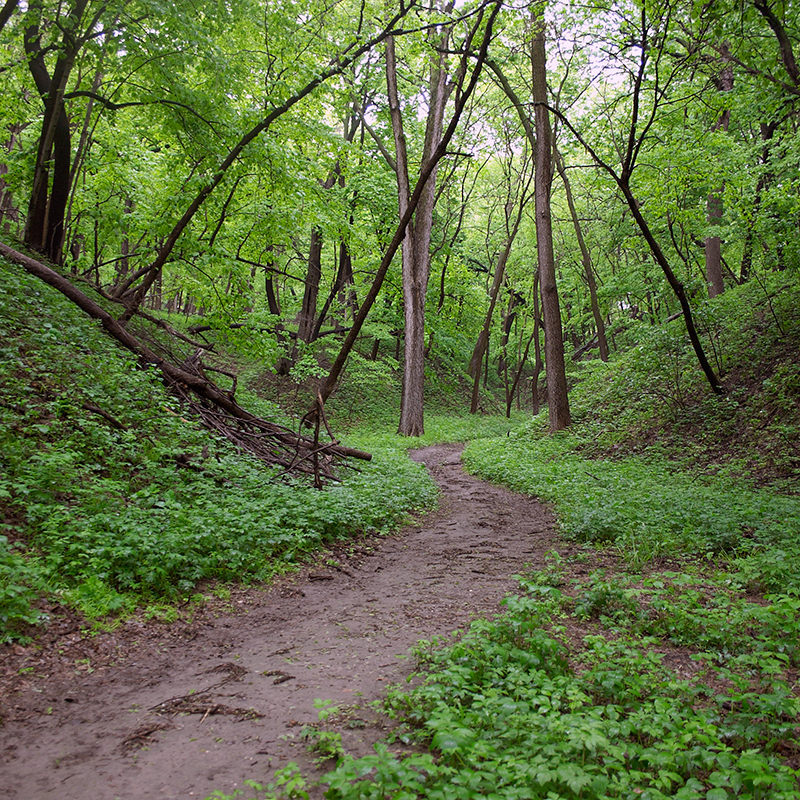 Stone State Park has 10.44 total miles of trails that can be used for hiking, horseback riding, mountain biking and trail running. In the winter, multi-use trails can be used for cross-country skiing and snowmobiles. All the trails in the park are in excellent condition with only minor erosion issues. The loess soil that makes up that trail system is comfortable and quiet to walk on. It makes for perfect trail running conditions and I saw several people doing just that. My stealthy footfalls allowed me to inadvertently sneak up on many deer and turkey. There are almost no rocks or boulders on the paths and where it is necessary, steps are constructed of soil and timbers. Points of interest and trails are well marked. The loess soil is prone to erosion when it's exposed so signage requests that you stay on marked trails and don't cut switch backs to minimize damage off trails.
The 4.18 miles of trails in the northern half of the park are designated single use hiking only. I did see bike tracks on these trails so be alert. The northern trails also offer some of the best points of interest in the park. If you're up for a challenge, hike a loop of trails starting at the campground to see many of the parks highlights. The loop hike will take two – four hours depending on your pace. I would recommend that you take a lunch, water, camera and binoculars.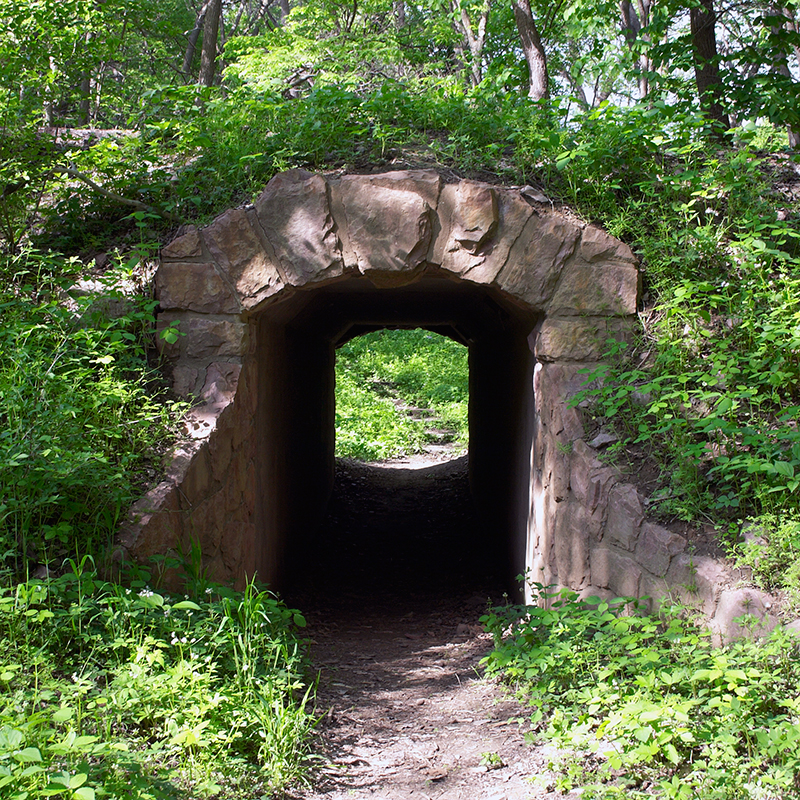 I really enjoyed the trek from the Stone Lodge to Dakota Point via the Tunnel Trail and Buffalo Run Trail on the north side of the park. The tunnel structure under Savanah Road was an interesting place to linger. Watch out for the nesting birds inside the tunnel. They like to wait until the last minute to burst out as you pass by. The rest for the walk will take you past the cabins, playground and through a shaded forest. The payoff at the end is the view of the Big Sioux River, Nebraska and South Dakota at Dakota Point.
The multiuse trail system on the south side of the park is a 6.26 mile trail network that is shared by hikers, bikers and horseback riders. These trails offer many features mountain bikers and equestrian riders seek. Equestrian riders will enjoy long rides through a canopy of trees and a wide ridgeline path with picturesque views to the west.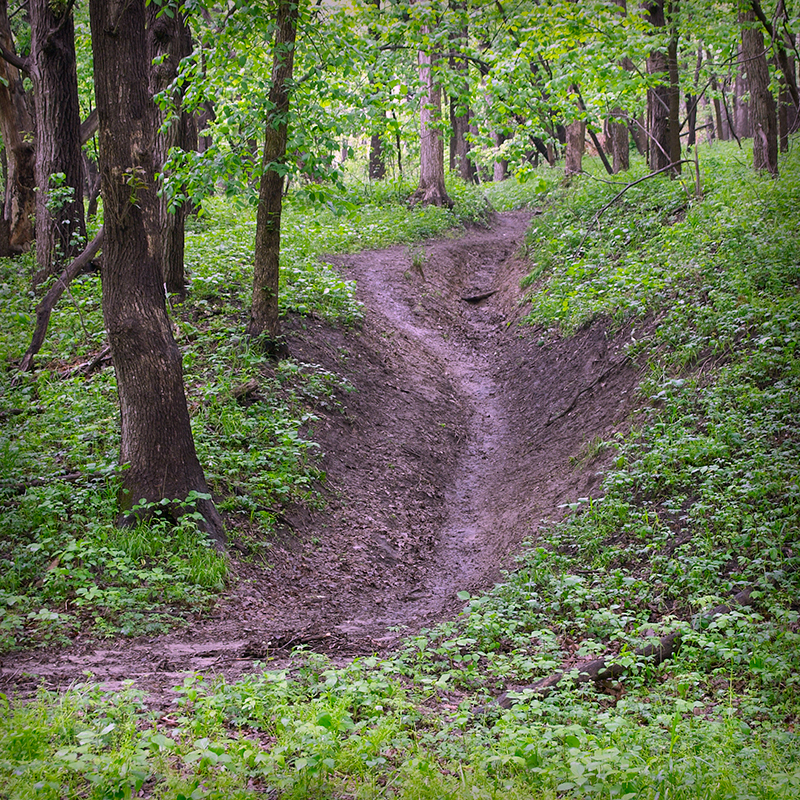 Mountain bikers can snake their way down a labyrinth of trails starting at one of two high point trailheads on Talbot Road. The ride down can cover several miles and drops over 300 ft. in elevation to the bottom at HWY 12. The terrain offers some single track technical challenges for bikers with ruts, washouts, berms and challenging climbs. The compact loess soil makes for a fast ride too. Keep an eye out for hikers, horses, deer and turkey.
From a hiker's perspective my, favorite multiuse trails in the south end of the park are Broken Toe Trail to Mt. Lucia Trail and Mark's Glenn Trail. Broken Toe and Mt. Lucia Trails give you a good cross section of the terrain. You get a pleasant walk in the woods, panoramic views and a ridgeline stroll through prairie remnants. Mark's Glenn is a picturesque hike through a deep shade hollow. I saw many deer on this path and countless songbirds could be heard.
Final Impressions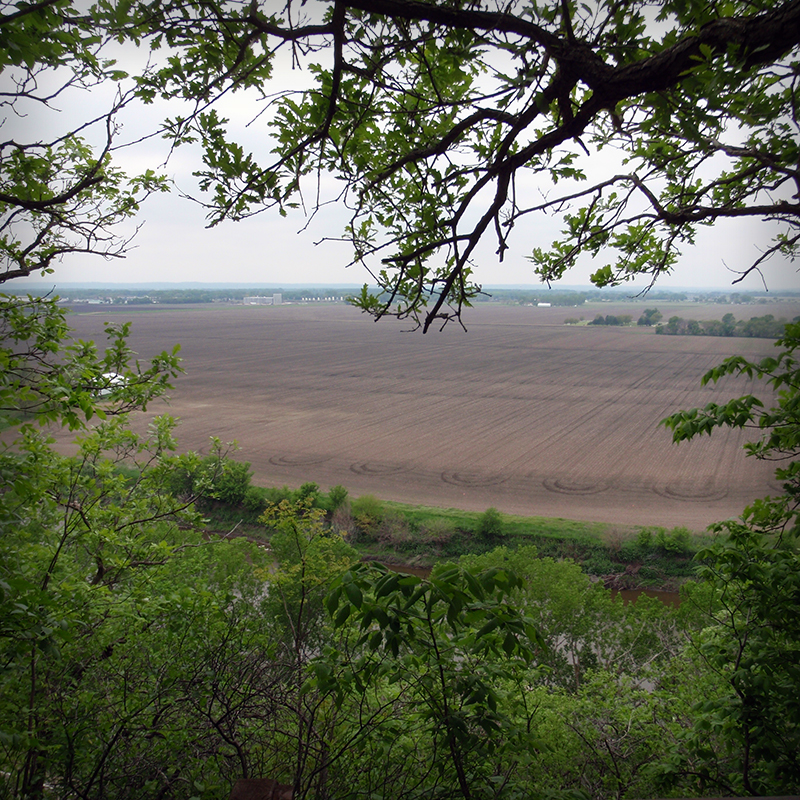 As an Iowa native and outdoor enthusiast, I was embarrassed that I had not known about Stone State Park until recently. Don't let its proximity to a large city detour you from paying this park a visit. There is plenty of room in this park and you can quickly elude crowds with a hike in the woods. The only negative about Stone State Park's proximity to a large population is the trash I saw at popular points of interest. I confirmed this issue with the park staff. They do an excellent job keeping the park clean with the resources they have.
Water sports are not the strong point at Stone State Park, but there are plenty of other places to go for that experience. This park is a hiker's, mountain biker's and equestrian's playground. I also have no doubt that this is one of the best places in Iowa when the fall colors are in their full glory. Stone State Park can easily be considered one of Iowa signature destination parks.
---
Related Parks You May Like