Rock Creek State Park is all about fishing. Park features such as multiple fish cleaning stations, boat ramps, boat docks and boat rentals make the lake an inviting place to cast your line. When your lure hits the water you are likely to reel in large mouth bass, channel catfish, walleye or crappie.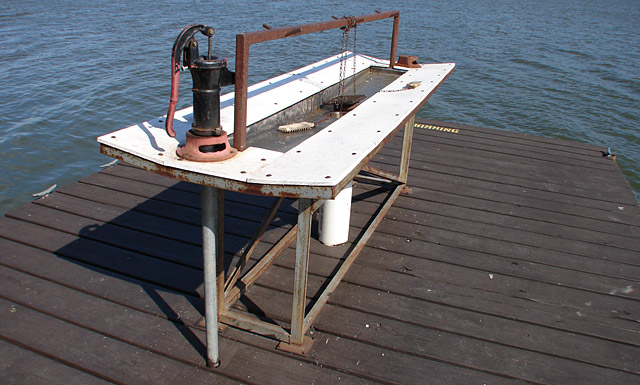 The park is the second most camped state park in Iowa and consists of 200 electric, non electric and primitive sites. From the campground you can access the 10.5 mile loop trail that circles the lake. The trail is a mixed bag of paved roads, mowed back yards and natural Iowa wilderness. Trail usage is open to horseback riding, hiking, mountain biking, cross country skiing and snowmobiling.
On a section of the lake's 15 miles of shoreline is a well groomed sand swimming beach. The beach does not have a life guard but is roped off to define the designated swimming area.
There is a nice shelter at the beach as well as a good size parking area. There are shelters on each side of the lake. The shelter on the west side is older but in good condition. It's perched on top of a hill and offers a good view of the lake. There is ample parking and a good amount of picnic tables.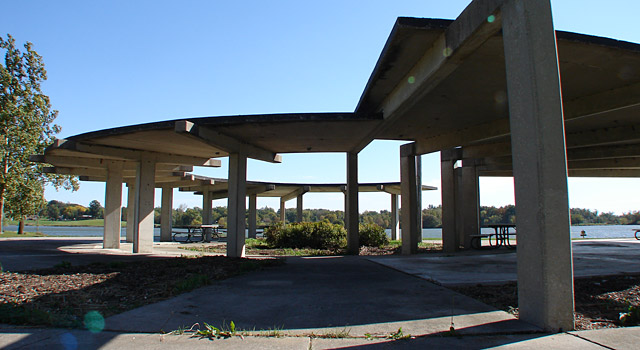 The shelter on the east side was new in the fall of 2008. It is larger than the west side shelter and has lighting. The site here is surrounded by trees and feels secluded with a nice view of the lake. This site includes primitive restrooms, plenty of picnic tables and sufficient parking.
Campground
By Iowa state park standards the Rock Creek campground is big. It does get busy and crowded on popular camping weekends but the infrastructure seems adequate to handle the volume of traffic. If you don't need electricity and have a smaller camper or tent the southern primitive camp area might keep you away from the crowds. The sites in the primitive area tend to fill up last and are not as tightly spaced as the north end.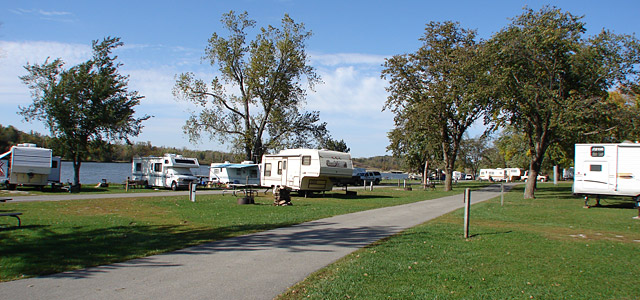 The campground is located on the east shore of the lake. This gives campers excellent access to the water and a nice view. Shade is sparse and many of the sites are in full sun. In general, camp sites further from the water tend to have more shade. Prevailing winds blowing across the lake can create a cool breeze for campers on hot dry days.
The modern amenities such as bath houses, playground and dump station are located in the north camping area. The southern campground has one primitive restroom and several fresh water spigots.
Final Impression
Rock Creek State Park is a social place to group camp with friends and family. If you're looking for less crowded conditions try camping during the week in the summer and anytime in the early spring or late fall.
---
Related Parks You May Like