Volga River State Recreation Area is known for its rugged, undeveloped beauty. The original intent for the land was to develop it into a large lake. However, cracks in the bedrock forced developers to scale the project down to the smaller Frog Hollow Lake that exists today. The result is a rugged, multipurpose recreation destination for both water sports and land based activities.
There are a variety of fishing opportunities at Volga River State Recreation Area in the Volga River and on Frog Hollow Lake. As with most rivers, the Volga River can run fast and deep or slow and meandering. Either way, the DNR says you'll find smallmouth bass, rock bass, channel catfish and white suckers when you cast your line into the river from the shore or canoe.
One of the best ways to view the rugged beauty of the area is to paddle the Volga River. There is a convenient put-in near the Albany equestrian campgrounds and several more upstream near the town of Fayette. The take-out at the eastern border of Volga River State Recreation Area has a level and grassy parking next to the Volga River for easy access.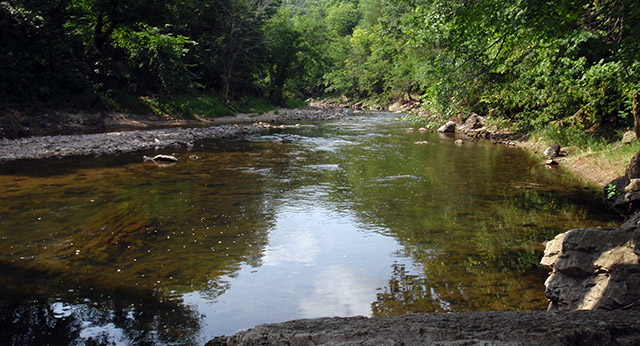 Facilities at Frog Hollow Lake are first class. The lake has a boat ramp, large parking area for vehicles with trailers, restroom facilities, docks, picnic shelters and fishing piers. Any size boat motor is allowed with no speed restrictions. The DNR says fish species include bluegill, largemouth bass and channel catfish, among others. Paddling the perimeter of the lake is also an enjoyable endeavor.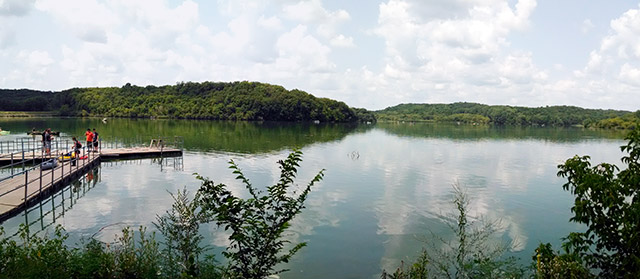 Other activities at Volga River State Recreation Area include horseback riding, hiking, hunting, mountain biking, and camping. The winter attracts cross country skiers and snowmobilers as well.
Campgrounds
The Albany Equestrian Campground is located in the southern part of Volga River State Recreation Area. This well maintained, non-modern campground has electricity at each of the 34 campsites. The large level sites accommodate horses, riders, vehicles and trailers comfortably. Campsites are primarily back-in gravel pads, but, four are pull-through gravel sites. Each campsite has a hitching post and most sites are shaded. The campground has two manure bunkers; two non-modern vented toilets; water spigots; and a small non-equestrian grassy area for tents and dry camping.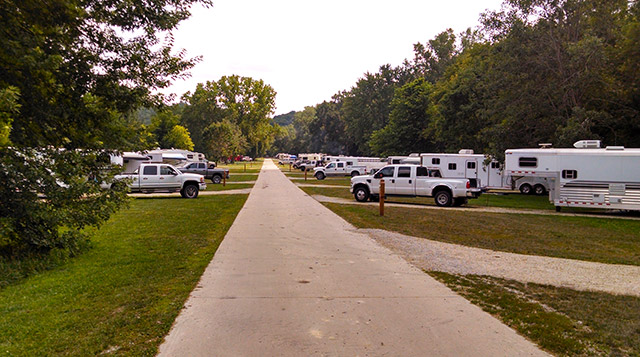 On the north side of Volga River State Recreation Area is Lakeview Campground. The amenities at Lakeview are some of the best I've seen in an Iowa state park. Most of the campsites have full hook-ups and all of the pull-through sites are paved concrete. The back-in sites have gravel pads and all campsites have a fire ring and picnic table. Camping areas are level but the trees at the campground are young and many sites are in full sun. The shower house facility has clean individual private rooms with locking doors. There are also modern men's and women's public restrooms. In addition, Lakeview is within walking distance to Frog Hollow Lake.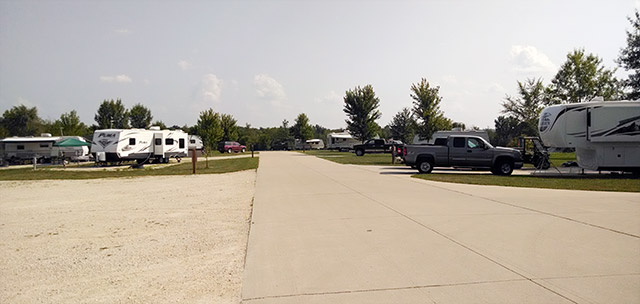 Trails
One of the more popular features at Volga River State Recreation Area is the 23.5 mile trail system. The trails cater to horseback riders but are equally enjoyable for hiking, mountain biking and cross country skiing. The DNR mentions that some trails are available for snowmobilers in the winter. The network of paths meanders over ridges, down ravines and along the Volga River State Recreation Area valley. You will encounter a variety of scenery such as dense timber, prairie grasses and prairie savanna. Trailheads are just off main park roads and parking is abundant. One of the best places to start a day on the trails is at the centrally located day-use parking area.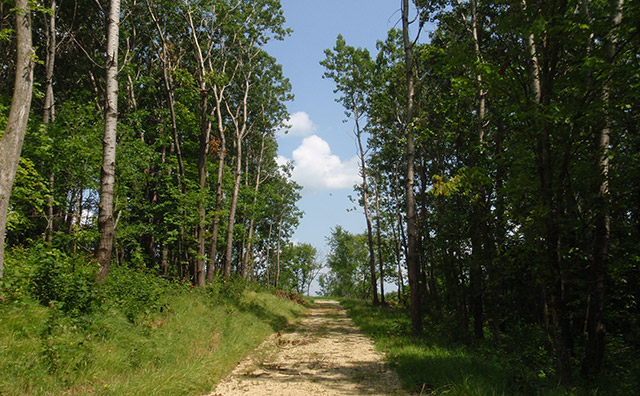 The trails are wide and vary in composition from dirt, gravel, grass and sand. Mountain bikers may want to note that the Lima trails have stretches of deep sand that make riding difficult. There are a couple water crossings that are manageable in normal conditions.
As with all mixed use trail systems, trail etiquette must be observed. The rule is — bikers yield to hikers and horses; hikers yield to horses.
– Depot Trail
The 2.9 mile Depot Trail is a nice route to start a day on the trails. It's easily accessed from the day-use parking area or Albany Equestrian Campground. As you ascend the trail heading west, you will come to a scenic overlook at the top of the ridge that offers a panoramic view of the Volga River State Recreation Area valley. Portions of Depot Trail follow old service roads along the tree line through meadows and timber. The Fayette Recreational Trail connects to Depot Trail from the town of Fayette.

– Ridge Trail
Ridge Trail is a 2 mile "U" shaped route that tracks over one of the main ridge lines in the area. The trail treks through timber; follows a gravel service road and along row crops. Perhaps one of the more thrilling mountain bike downhill runs can be found just before the southeast trailhead.
– Albany Trail
This is a pleasant 1.6 mile path through the timber and along a ravine. Due to Albany Trail's remote feeling, it's my preferred route up to Ridge Trail.
– Frog Hollow Trail
If you had to pick one trail that represents the variety that Volga River State Recreation Area has to offer, the 3.3 mile Frog Hollow Trail might be the best choice. This route travels up and over a ridge among woodlands and prairie savanna. There is even a scenic overlook and a stream crossing for added interest. Mountain bikers may find it useful to know that the northeastern trailhead has a large stretch of deep sand that is challenging to ride through.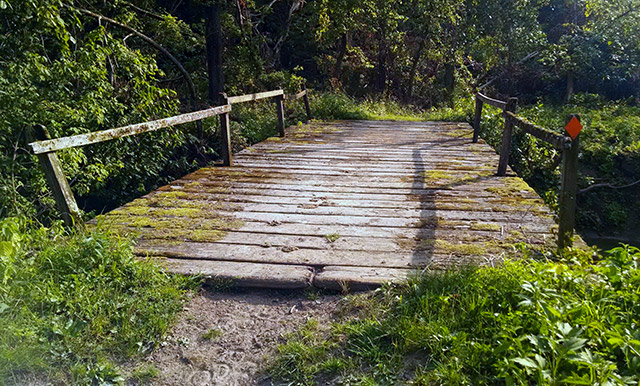 – Orchard Trail
The 1.6 mile Orchard Trail is a loop route off of the Frog Hollow Trail. It's a good way to extend your trip with mostly sunny savanna views on level terrain.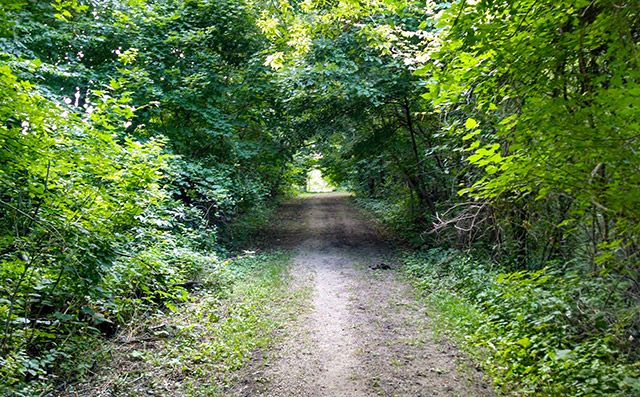 – Prairie Trail
Prairie Trail travels north/south for 1.3 miles in the Volga River State Recreation Area valley. You'll travel in full sun but the lack of trees offers expansive views of the bluffs all around. This route will take you through shortgrass prairie, row crops and alongside I Avenue. Prairie Trail can be used to complete a loop with either Frog Hollow Trail or the Lima Trails.
– Lima Trails
The Lima Trails include 1.4 mile Upper Lima Trail; 1.7 mile Lower Lima Trail; and 3.7 mile Lima Trail. This trail system on the northeast side of Volga River State Recreation Area is primarily wooded. Lima Trail feels remote and has a unique stand of white pines near the southern trailhead. You will also encounter some small patches of row crops; 20 foot high limestone bluffs; one water crossing with a bridge and one without. There are large sandy areas on the Lima Trails that can make mountain biking arduous.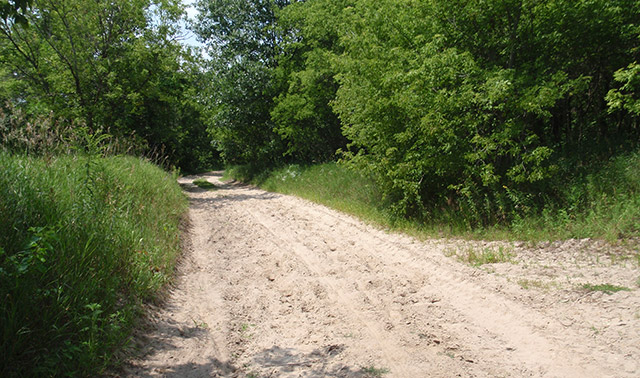 Final Impressions
Volga River State Recreation Area is another gem in the rugged terrain of northeast Iowa. The facilities at Lakeview Campground that include full hookups are impressive. The extensive trail system was also a standout feature with Frog Hollow Trail and Lima Trail being my favorites. Albany Bridge near the Albany Equestrian Campground was my preferred place to linger and take in views of the Volga River. My next trip will include a kayak to view Volga River State Recreation Area from the water.
---
Related Parks You May Like