Banner Lakes at Summerset Trails
In early 1932 the Banner Coal Company started strip-mining coal north of the small town of Summerset, Iowa. It was said to be the largest strip-mining operation in Iowa. In 2004 Banner Lakes at Summerset State Park was developed into a park at the old mine site and is now one of the newest parks in the state. The mining operation left tailings and overburden piles that create a unique terrain for the 5.83 mile trail system. The single-track trails are ideal for mountain biking, trail running, or simply hiking. The excavation also created uniquely shaped lakes with an erratic shoreline and many small coves to explore. Fishing and paddling are popular here. Any size powerboat motors are allowed at no-wake speeds.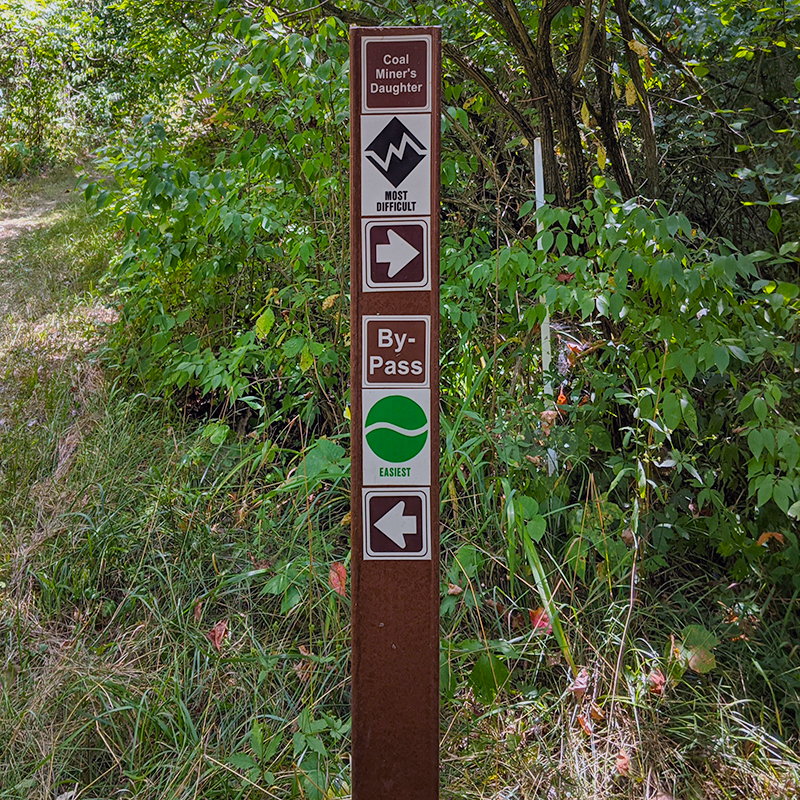 The single-track trails are marked with a difficultly rating system for mountain bikes. The green circle is easy; the blue square is intermediate and the black diamond is difficult.
Coal Miner's Daughter Trail
Without a doubt, the 2.77 mile Coal Miner's Daughter Trail is the premier trail in the park. The easternmost trailhead is commonly the entry point for a clockwise loop of all the trails. This trail has all three levels of difficulty for mountain bikers.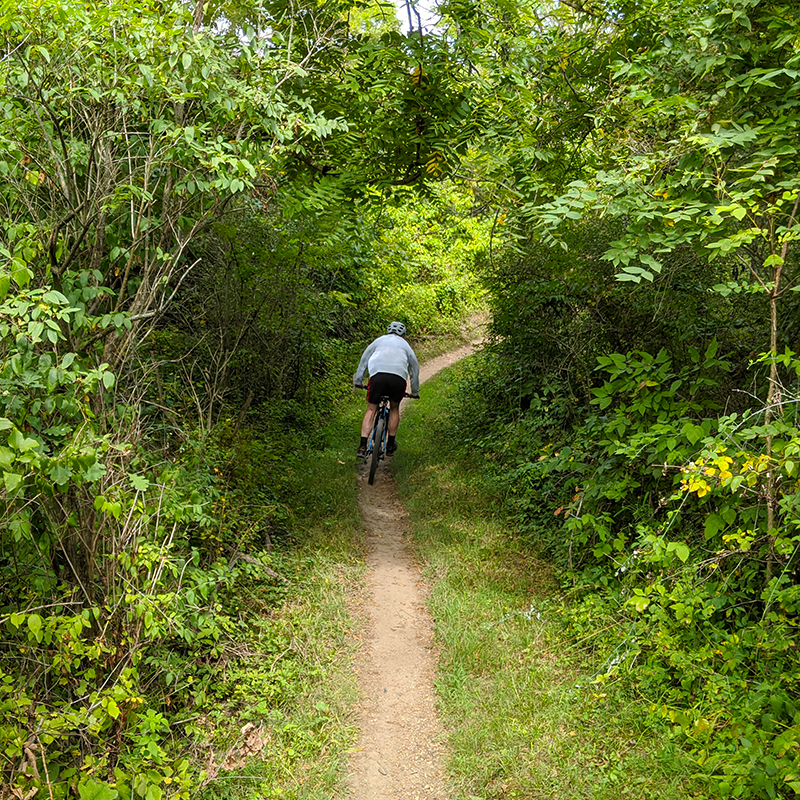 It is possible to ride Coal Miner's Daughter Trail from start to finish on intermediate trails only. The intermediate route features rolldowns (the trail drops away significantly but you can roll down with both wheels firmly on the ground); rollers (a series of smooth ups and downs that can be ridden without peddling); boardwalk water crossings; berms (banked turns) with drops (the trail falls away sharply) and double drops (two drops in a row) along the way.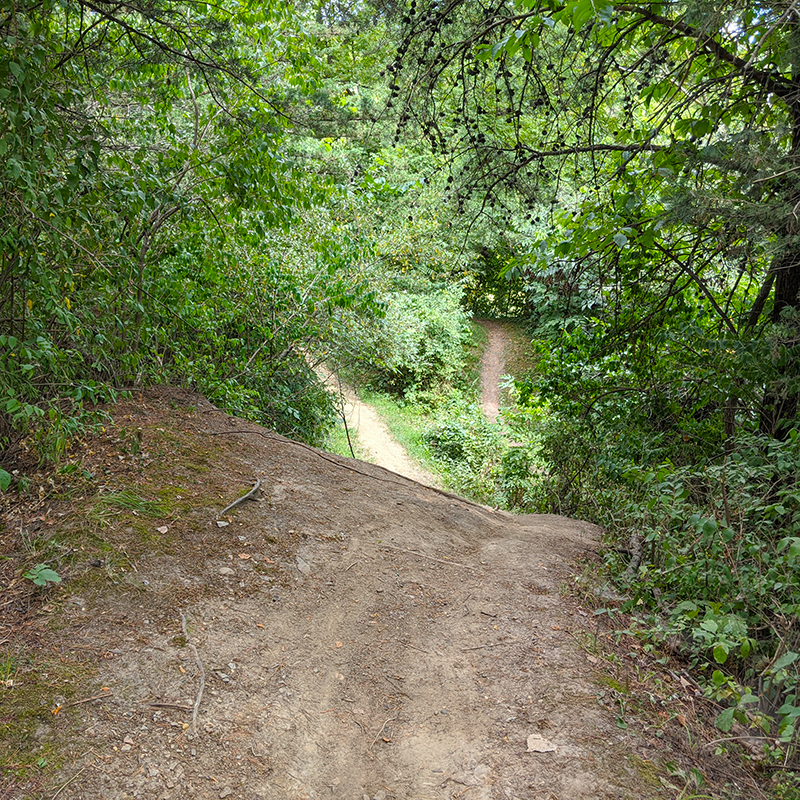 The black diamond loops are challenging and more technical. They incorporate drops, berms, and 23%-33% grade rolldowns. The trails are in good shape to keep your speed and momentum going. The black diamond trail loops made it easy to circle back and ride the routes multiple times before continuing.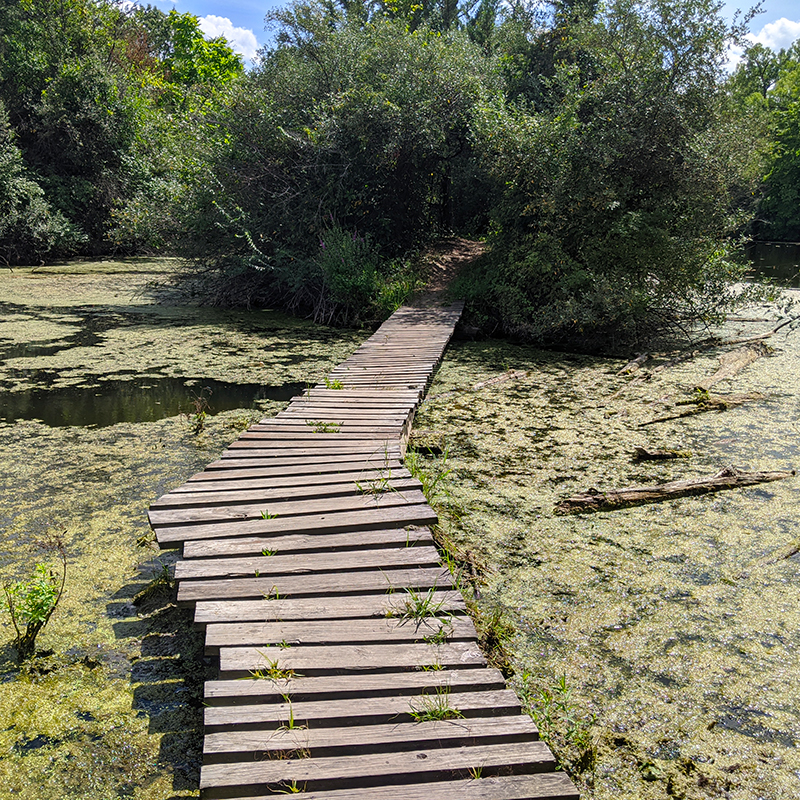 This trail is also enjoyable for hiking and trail running. The varied terrain made my hike a good workout. This route also traverses alongside the lakes and through wetlands under a canopy of trees allowing many opportunities to view wildlife. Be sure to keep an eye out for bikers as they can approach you quite quickly from either direction.
Corner Pocket Trail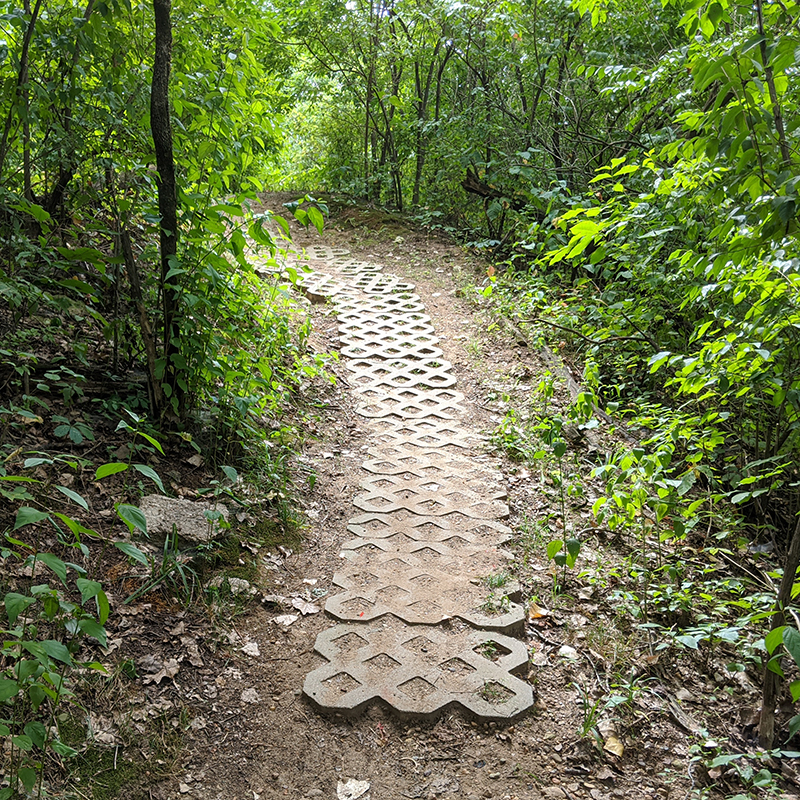 This .7 mile trail is a black diamond technical roller coaster ride through the forest. Key features are sand, rock garden water crossing, berms, and a concrete section for uphill traction. Watch for hairpin turns and hilly terrain.
Dog Bone Trail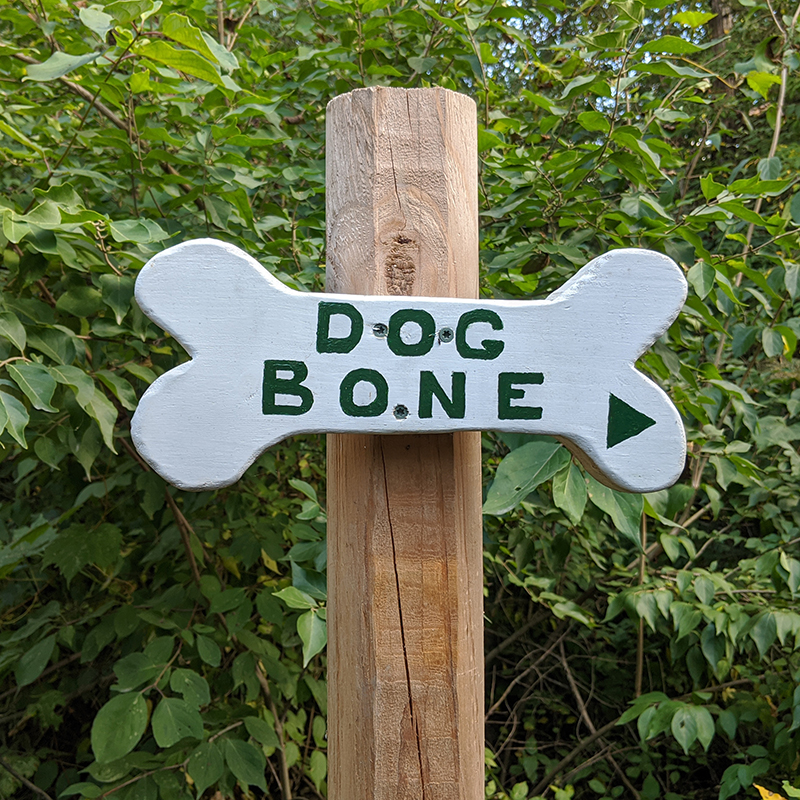 This is a short .09 trail on the east end of Coal Miners Daughter Trail. In 2012 a group of Iowa State University architecture students created wooden technical trail features on Dog Bone. As of this writing, the structures have fallen into disrepair and remain unusable.
Extra Credit Trail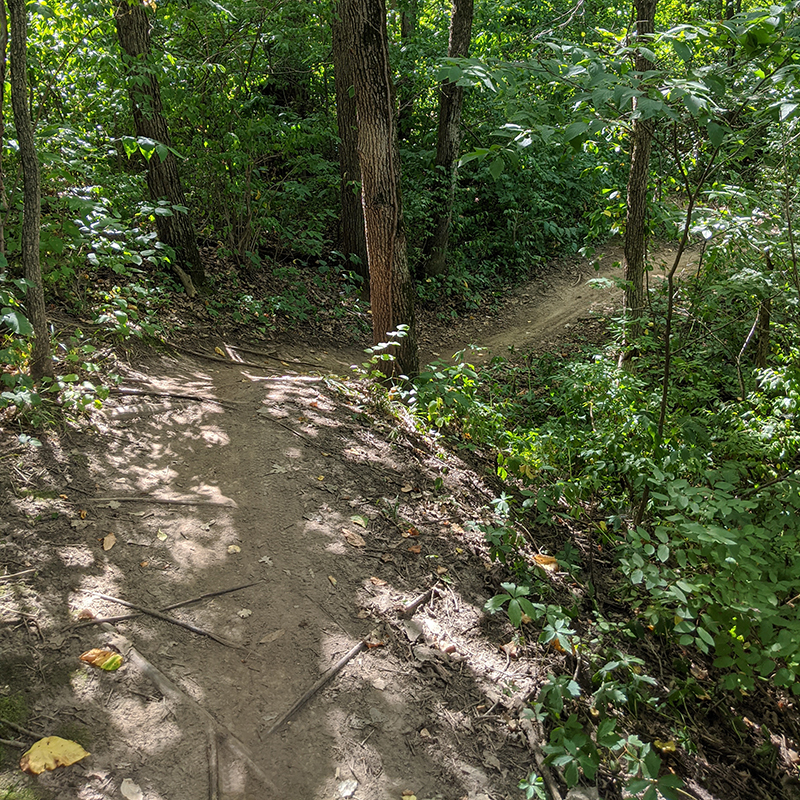 The .5 mile black diamond route is intended to be one last thrill ride in the woods before you end your ride at the park. It's a tight trail with rollers, a big banked berm, and a figure-eight style intersection.
Missing Link Trail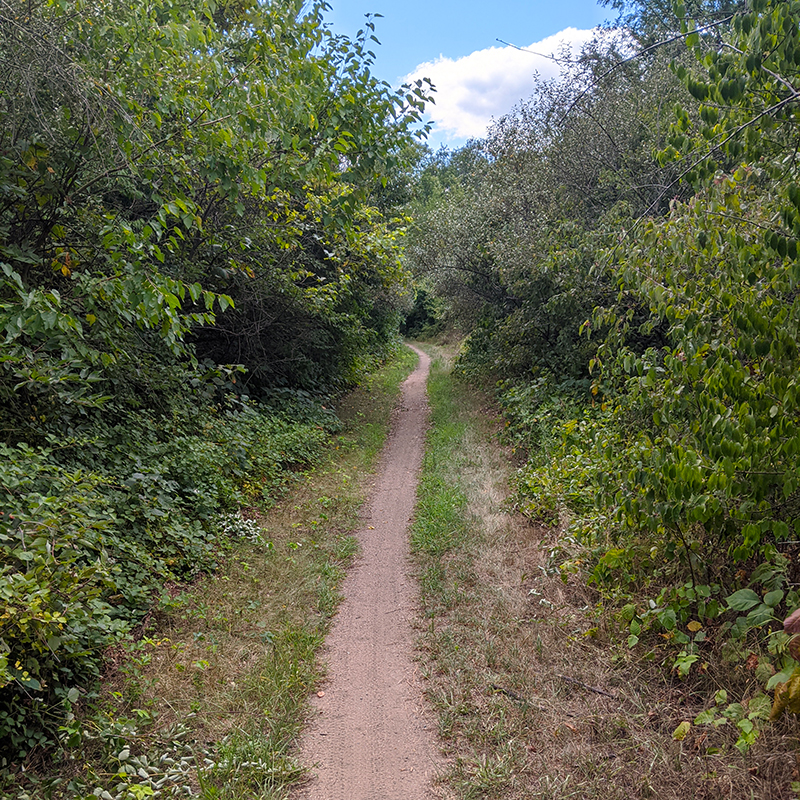 The .53 mile trail is a flat route from east to west. It's a good place to pick up some speed and cool off on your bike or stroll and enjoy nature.
New Ed Beach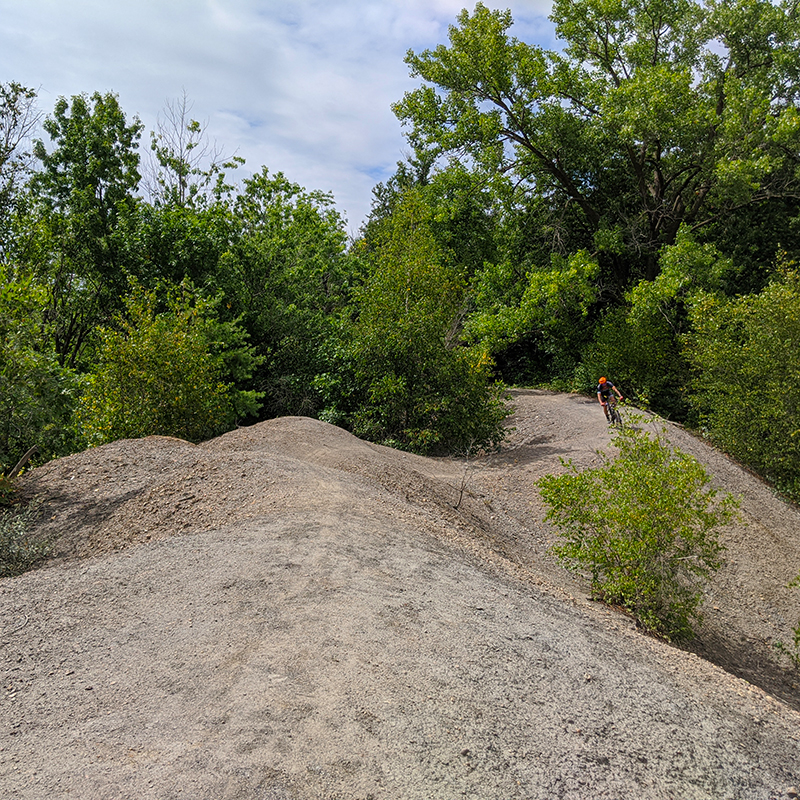 New Ed tracks .31 miles along a ridge. Along the way, you will encounter rollers and rolldowns on your bike. You can see the tailings piles from the old strip mining operation here. The combination of water, trees, and hilly terrain makes this area a fantastic place to take pictures. It also seems like a good way to access the shoreline for fishing.
Summerset Trail
Summerset Trail is an 11 mile paved walking and biking trail that's built on an old Rock Island railroad bed. The route connects Carlisle and Indianola with Banner Lakes at Summerset State Park at the midpoint. Many bikers make the 1.26-mile park road loop an extension of the trail.
Riverside Trail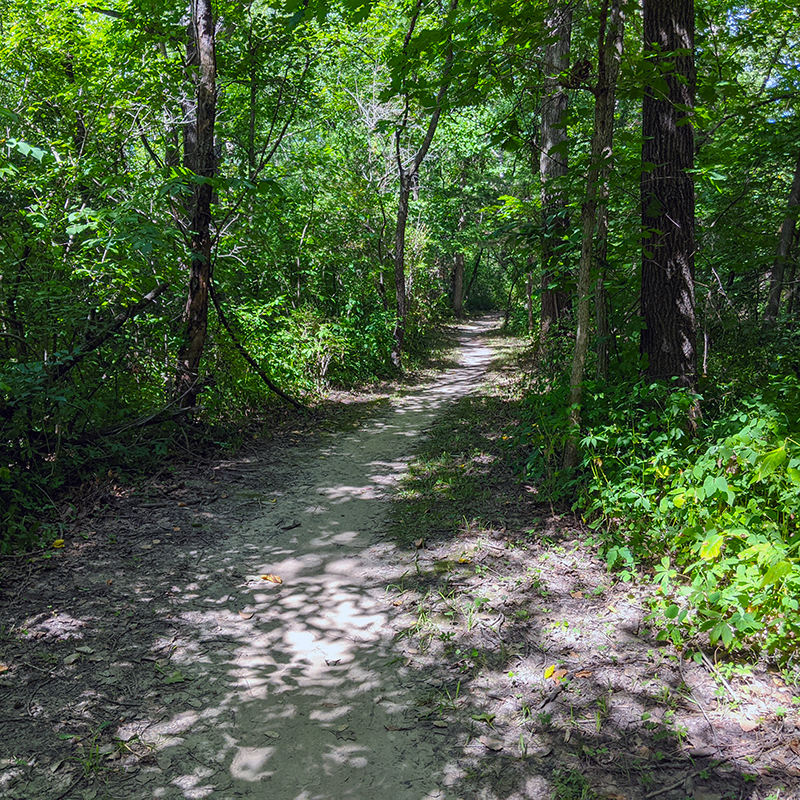 The .93 mile riverside trail is rated as easy and makes for a pleasant ride or walk in the woods.
My Favorite Trail
I'm going to split my favorites between two trails. On a mountain bike, Coal Miners Daughter Trail gets my vote. There are many route options and trail features to keep you mentally engaged. The trail seems like it goes on forever with a fun factor of 11!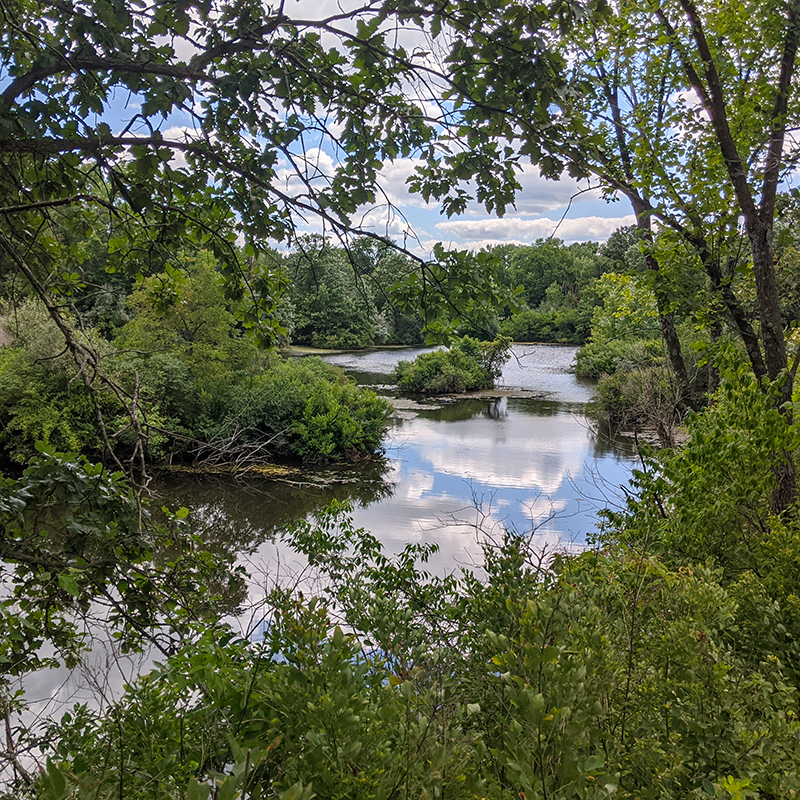 As a hiker, I enjoyed New Ed Beach Trail. It was picturesque and access to explore the shoreline from the trail was a bonus.
---
Related Parks You May Like