Shimek State Forest is the third largest out of ten forests in the state. In fact, Shimek State Forest was on track to become a national forest called "Hawkeye National Forest" but the plan never came to fruition.
Many of Iowa's state forests are broken up into areas called units and Shimek State Forest is no exception. Shimek's five units located in the southeast counties of Lee and Van Buren are named: Croton, Donnellson, Farmington, Keosauqua and Lick Creek. Despite the segmented units, Shimek State Forest has one of the largest remaining single pieces of contiguous forest in Iowa.
During the 1930's a University of Iowa botany professor named Dr. Bohumil Shimek petitioned the state to acquire the forest and farmland. In 1950 the state named Iowa's largest tract of state owned forest after Dr. Shimek.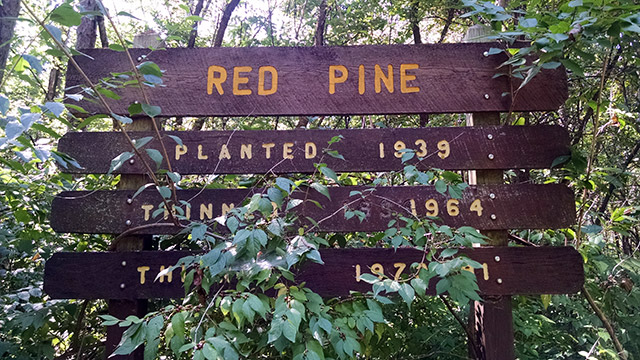 The Civilian Conservation Corps (CCC) was responsible for some of the earliest development at Shimek State Forest. Their work can be seen in the in the acres of hardwood and softwood trees planted by the CCC. There are stands of northern and southern tree species planted as a trial to see how they would fare in Iowa's climate. Northern species such as the Eastern White Pine and Red Pine seem to have adapted the best.
Unit Features
Hunting is allowed in all units of Shimek State Forest with the exception of the campgrounds. Hiking is also permitted in all forest areas, however, trail conditions vary. To avoid thick undergrowth, stay on well-traveled trails or try hiking the less developed parts of the forest in late fall, winter or early spring. Spring and summer bring an abundance of ticks but long sleeve shirts and long pants in combination with insect repellant will significantly reduce your exposure.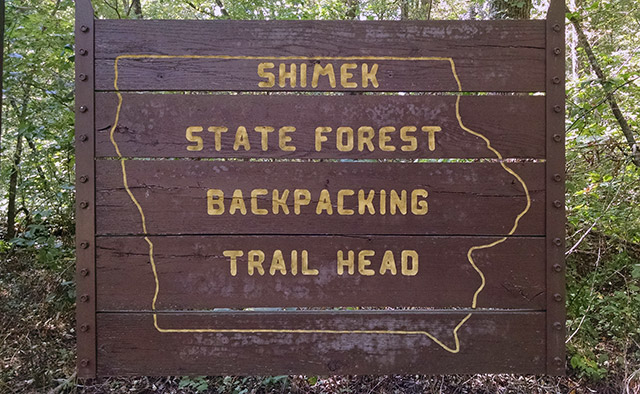 There are five fishable lakes in Shimek State Forest stocked with bass, channel catfish and panfish. Camping is available at any of the four campgrounds (and one walk in campsite at Shagbark Lake).
– Croton Unit
The Croton Unit is the southeast most portion of Shimek State Forest and is divided into three segments. It has been said to be one of the premiere birding locations in the state with bird species that are rare or absent from other parts of Iowa.
This area of the forest is undeveloped and has few trails and no restrooms or other recreational infrastructure. Setting out on foot in this unit can be a challenge as you fight through a tangle of multiflora rose, stinging nettles, poison ivy and deadfall. That said — there are some tips to hiking in the Croton Unit. Some formal trails are trampled down enough by hunters and mushroom foragers to be passable. Game trails exist and can be utilize to walk the forest. Another option is to walk the stream beds with proper footwear.
– Donnellson Unit
The Donnellson unit abuts the Farmington and Lick Creek units to form the largest contiguous forest in Iowa. The Donnellson unit is on the northeast side of the three connected units.
Shagbark Lake and Martin Pond are accessible places to fish in this unit. Shagbark Lake is surrounded by the forest and feels secluded. The lake has a gravel boat ramp and a walk-in campsite. Martin Pond is a scenic spot to fish and picnic just off of highway 2.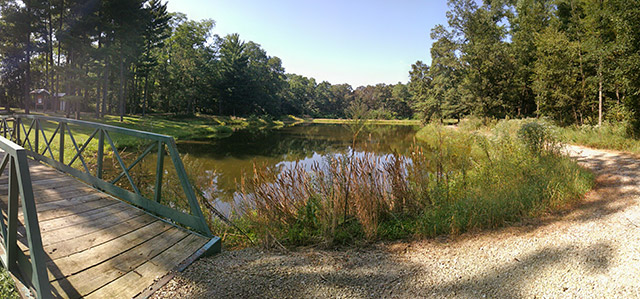 White Oak campground has 11 primitive campsites available on a first-come first-serve basis. White Oak feels remote but can be accessed by vehicle with travel trailer via a gravel road. Each site has a level gravel pad, picnic table, fire ring and the entire campground is shaded. There are also separate men's and women's pit toilets. Be prepared to dry camp here since there is no water or electrical.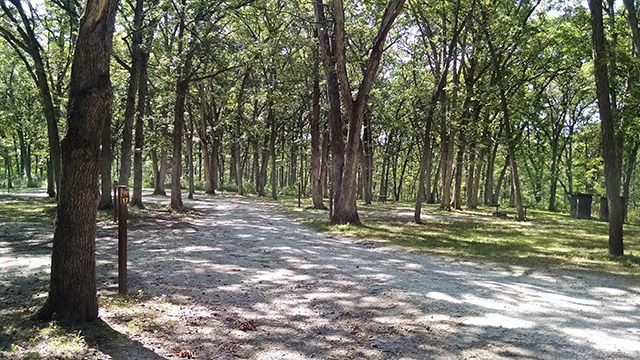 There are over six miles of hiking trails in various states of maintenance. I was unable to hike most of them due to heavy overgrowth. An old railroad bed trail that ran west to east through the Donnellson and Farmington units looked especially intriguing.
– Farmington Unit
The Farmington unit is located between the city of Farmington, IA and the Donnellson unit of Shimek State Forest. You'll find recreational amenities such as lakes, campground and trails. The forest headquarters are also based in this unit.
The Bitternut Lake campground has eight first-come first-serve primitive campsites. Sites are shaded and pit toilets are available. The campground is five miles from the town of Farmington which makes it convenient to run into town for camping supplies.
Bitternut Lake, Black Oak Lake and White Oak Lake are all fishable waters in the Farmington unit. Bitternut Lake has a boat ramp, dock, vehicle parking and restrooms. Black Oak Lake features handicapped accessible picnic area, fishing dock, vehicle parking, and restrooms. Electric motors only are allowed on both of these lakes. White Oak Lake is more remote and requires a .8 mile hike to access the lake.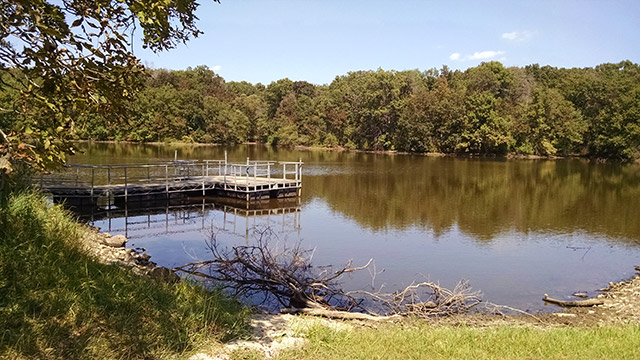 The Farmington unit has over 18 miles of trails but like the Donnellson unit, heavy overgrowth on many trails suppressed my efforts to hike. The few that I did hike were wide and easy to follow.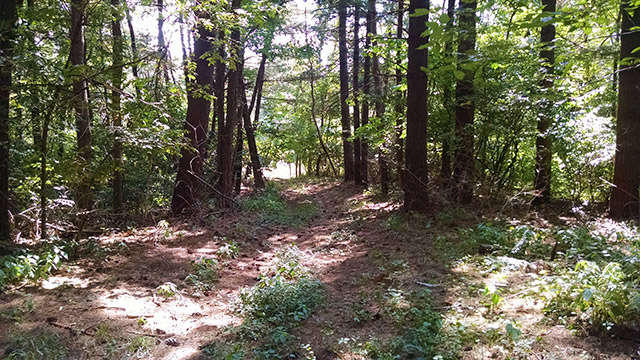 – Keosauqua Unit
This unit is the smallest of the five Shimek State Forest units. Recreation is limited to hiking and hunting, however, nearby Lacey Keosauqua State Park and Lake Sugema offer a full range of outdoor recreation opportunities.
A combination of access roads and trails creates over seven miles of hiking routes through the forest. The well maintained Gate House Trail actually starts and ends in Lacey Keosauqua State Park, but a little less than half the trail will take you deep into the Keosauqua unit.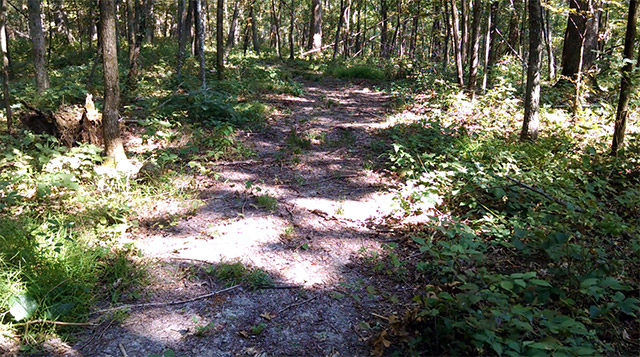 – Lick Creek
Lick Creek is the largest unit in Shimek State Forest and is popular with equestrians. It's connected to Donellson and Farmington units on the south side of highway 2. A well maintained gravel road called Lick Creek Road provides access into the middle of this unit. The road travels past a scenic overlook, picnic area and campgrounds to a dead end at Lick Creek.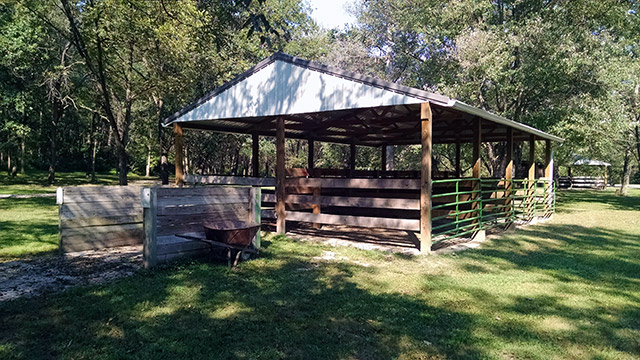 There are two primitive equestrian campgrounds with amenities such as water spigots, covered horse stables, manure bunkers and pit toilets. The upper equestrian campground has 11 campsites and the lower equestrian campground is larger with 24 sites. Each campsite has a level gravel pad, fire ring, hitching post, picnic table and most are shaded. Half the campsites can be reserved through the park reservation system and the other half are available on a first-come first-serve basis.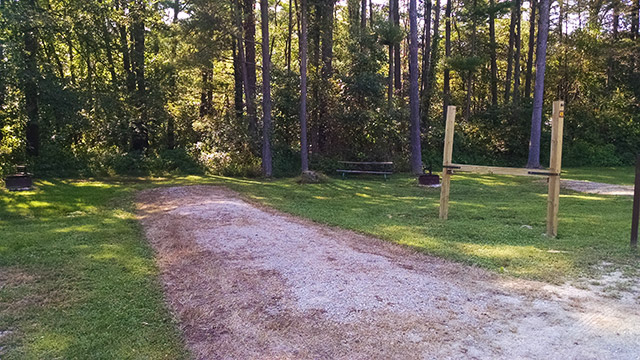 The Lick Creek unit has one of Iowa's signature equestrian trail systems. The 25.5 mile multi-use network of trails is well maintained by the Iowa DNR and the Friends of Shimek State Forest Equestrian Trails. The trails have three categories: open, wet, and closed. When the trail status is "wet" horse riders must use the wet weather trail (WWT) only. The WWT is a 6.3 mile gravel trail for horse riders to use during wetter conditions.
It can be easy to become disoriented and lost on these remote trails. For that reason, numbered markers are placed at trail intersections that correspond with maps to pinpoint your location.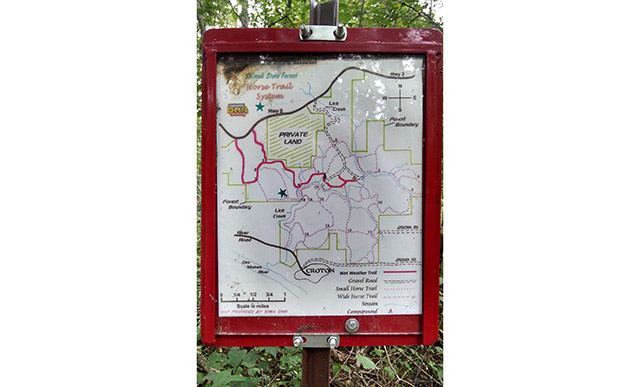 Trail types vary from wide road-like gravel to single track paths. The DNR and volunteers have a never ending task keeping all trails open and in usable condition. You can expect to encounter deadfall across trails, washouts, and some trails may be overgrown. Several trails that cross Lick Creek and smaller streams suffer from heavy use by horses making hiking difficult. The majority of the trail system is in great condition.
I mountain biked the trails in the Lick Creek unit and found the routes north of Lick Creek and west of Lick Creek Road to be ideal for riding. The entire unit is excellent to hike and you'll encounter wildlife in dense timber as you trek up and down ravines. Remember — bikers yield to hikers and horses; hikers yield to horses.
Final Impressions
I use to find it hard to believe that Iowa could have large tracts of forest, but Shimek State Forest dispels that notion. It's one of the few wild places in Iowa that can take more than a weekend to explore.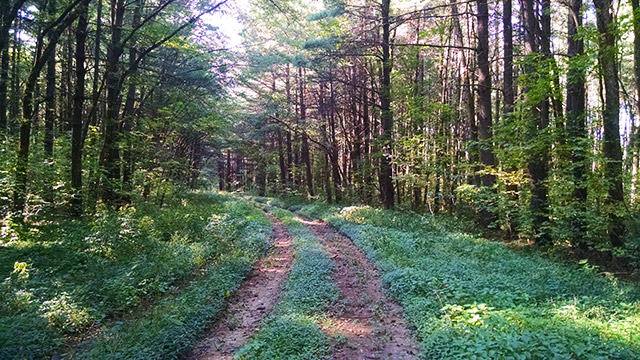 Don't let the size detour you if you're simply passing through on the Historic Hills Scenic Byway (highway 2). Pull of the road at Martin Pond or turn onto Lick Creek Road and wind you way into the forest for a quick peek.
A state forester's primary objective is actually the well-being of the ecosystem and recreation is second. Recreation opportunities exist at Shimek State Forest because of the efforts of a surprisingly small DNR crew and volunteers. When you visit, please respect their efforts and the habitat.
Shimek State Forest may have fallen short on becoming a national forest but that early effort left Iowans with a state treasure.
---
Related Parks You May Like
---
Resources